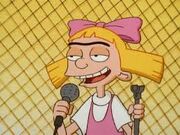 Helga G. Pataki performs a stand-up comedy routine at P.S. 118, but when she starts imitating her classmates, they get angry at her and start ignoring her. She sees what's going on and stops doing stand-up comedy, but her classmates think that her new act is terrible! What will she do?
Trivia
Ad blocker interference detected!
Wikia is a free-to-use site that makes money from advertising. We have a modified experience for viewers using ad blockers

Wikia is not accessible if you've made further modifications. Remove the custom ad blocker rule(s) and the page will load as expected.